THE 8TH VALEDICTORY CEREMONY AT THE INNERCITY MISSION, IKEJA CAMPUS.
On Thursday, July 28, The InnerCity Mission had its 8th valedictory Ceremony across its network of schools. At the Ikeja Campus, we graduated a total of 46 pupils from Basic 5, 6, and also the Nursery School.
The Esteemed Director of the InnerCity Mission, Mrs. Omoh Alabi, chairman of the occasion Mr. Toro Bank-Omotoye, partners, parents, and teachers were present to celebrate the academic milestones of the graduands as they began a new phase in their academic journey.
The graduating pupils walked into the auditorium, stunning in their beautiful graduation attires, singing, "We are Lights." They were ushered to their seats amidst cheers from their families, friends, and teachers. Several speeches were made, mostly commendations and farewell addresses to and from the outgoing pupils.
The ceremony was earlier warmed up by the nursery pupils as they gave an exceptional presentation and the parents, teachers, and schoolmates applauded them on their performances. As the event went on, the basic 5 and 6 pupils wowed the audience with their song ministrations which left the audience soaked in worship and thanksgiving.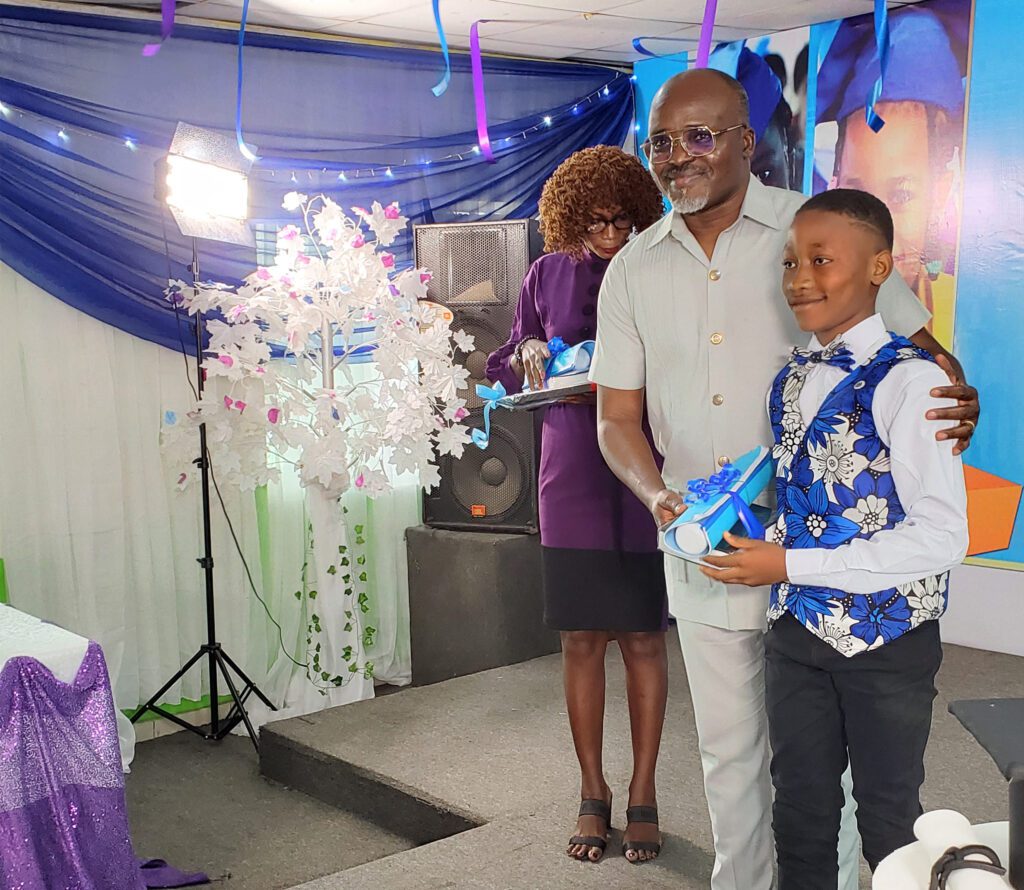 A major high point of the day's event was the presentation of awards, the graduands were awarded in various categories like best in English, Mathematics, Creative art, handwriting, Science and Overall best in their classes. Assumpta Ahammbeh happened to be the overall best student in Basic 6 while Edidiong Emmanuel from Nursery 1 banked overall best in her class. The handing over of the certificates was done by the director of the InnerCity Mission and the chairman of the event.
Also, at the event was a graduation cake proudly donated by a cooperate sponsor Wire My Cake to bring color to the event.
We say a big Thank you to our dear Partners, who committed to ensuring these children started and completed their primary school education. With your partnership, we have built in them a great academic and spiritual foundation; a foundation to build a great future.
Another school session begins in a few months, and thousands of children are counting on you for an opportunity to enjoy free education across our network of schools. At the ICM School with your partnership, each child asides free education and also receives school kits and daily school meals for free as a result of the commitment of our dear partners. Join us to color more dreams and sponsor a child's education and be part of our Sponsor A Child's Education (S.P.A.C.E Campaign), www.theinnercitymission.org/icmschool.