MENTEE BECOMES A MENTOR – SARAH SHARES HER STORY…
Sarah Aguele was 13 years old when she joined the mentoring program and her life took a new turn. She is now 17 years, and mentoring children in 2 underserved communities in South-West Nigeria.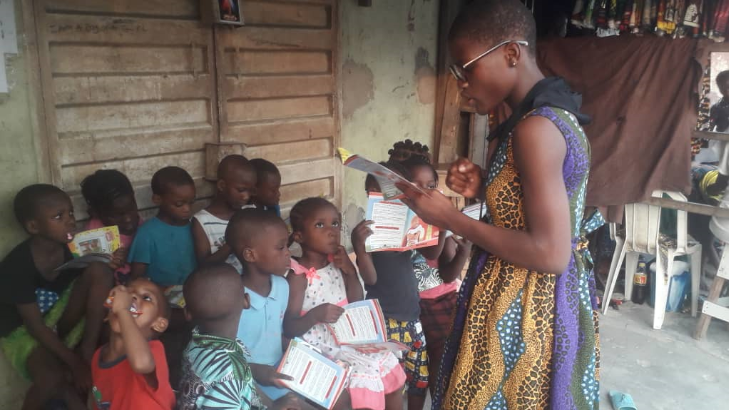 I was 13 when I joined the InnerCity Mission child mentoring program in my primary school (Ajelogo primary school). Since then, my life has been transformed through the years of effective teachings and counseling. The mentoring program has impacted my life in so many ways. Before I was timid but now, I am bold. I can stand before a crowd and talk fluently without being afraid. I used to be rude to people but when I learnt about politeness and how to talk in a respectful way, I changed my attitude. I also learnt about the power of my tongue, and now I use my tongue rightly."
I come from a family of 9 and sometimes things can be a little challenging. On one occasion, my mother was complaining that we didn't have food in the house to the cook but I quickly responded to her that she should say the right thing and that before the day ends, food will be available. Guess what? Someone called my mother from her place of work and she was given lots of food items that lasted us over two weeks.
I have raised funds to execute two impactful projects in my former school (Kosofe junior college) which was used to buy one (1) pack of white board makers and nine (9) waste bin baskets.
I have grown so much in my spiritual life by regularly attending our every Friday prayer meeting and leadership development training. Currently, I am one of the leaders of the InnerCity Mission Child mentoring program and also handling two mentoring centers in Ajelogo and Ajegunle communities, South-West Nigeria. One of the best things that happened to me this year is when I ministered the word of God to over 227 children, teenagers and adults in Ajegunle community during our DAY OF BLISS OUTREACH PROGRAM. When I made the altar call for children to give their lives to Christ, I was amazed at what I saw. They ran out with so much zeal to say the prayer of salvation.
I will forever be grateful to the InnerCity Mission for such a wonderful initiative. Today, my life is an example to other children…
At the InnerCity Mission for Children, we carry out social change in vulnerable and underserved communities through our child mentoring program, helping at-risk children realize their potentials and build a great future.
To support this initiative, kindly click – https://icm.ngo/donate